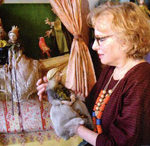 Anna has exhibited widely in Chicago and New York, as well as internationally. Her dolls have been displayed in Christmas windows at Tiffany and Saks Fifth Avenue in New York as well as at Lincoln Center's Gallery of the Performing Arts, The Museum of the City of New York and the Muse'e des Arts Decoratifs in the Louvre in Paris.

Jamie Williamson had worked in doll art for twenty-five years. She has become one of the finest artists of our time. Her recent work of doll portraiture has been amazing! Whether it is a child, adult or character art that she is doing. All of her work is done with feeling and realism. She works with polymer clay.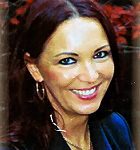 1988 I started to create porcelain dolls. All my dolls are made out of the finest Limoges (France) porcelain . Only porcelain has the transparent surface structure, which allows creating the special detailed, translucent look of human skin and porcelain is not changing its character forever.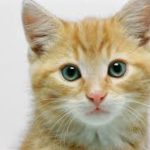 Susan is known for Christmas art. She does all kinds of subjects in vignettes. Her work has been published in Better Homes and Gardens Christmas art book.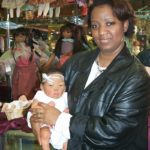 My babies are lovingly created using a polymer clay combination. Their angora mohair is meticulously hand applied so as to look like its actually growing out of the scalp. The babies are weighted to feel just like a real newborn. It is my hope that my creations continue to bring joy to whoever sees and hold them. I try to capture a bit of the magic of the child!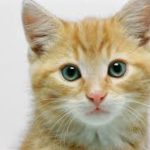 Lyle is an outstanding artist of Asian doll art that is authentic. It's usually done in porcelain. There is a limit of dolls that get put out, they are often sold immediately. PATIENCE IS NEEDED to attain one of his dolls.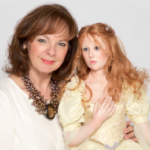 The dolls of Hildegard Günzel enhance with the most lively skin texture that is given by a wax over coating on the porcelain. For dressing her enchanting figurines she uses only the most exquisite materials such as real silk, cashmere, expensive brocade and hand embroided materials. Her dolls wear handmade real hair wigs. All accessories of the dolls are elaborate and noble in the making and are indicating her love for detail.